One of my most popular workshops a photography workshop featuring one of the most beautiful and dramatically photogenic birds in the world, the Snowy Owl. Through the years and from various cultures the Snowy Owls have been called many names. They've been called Snow Owl, Arctic Owl, Great White Owl, Ghost Owl, Ermine Owl, Tundra Ghost, Ookpik, Scandinavian Nightbird, White Terror of the North, and Highland Tundra Owl. Whatever name you choose, AWESOME comes to mind, they are magnificent birds, and you now have an opportunity to join me on a journey to photograph these birds in the Great White North of Ontario Canada.
Snowy Owl Workshop Highlights
Snowy Owl Migration
Small Group – 8 clients
Local Guides
5 nights and 6 days
All Inclusive
Ontario, Canada
$2995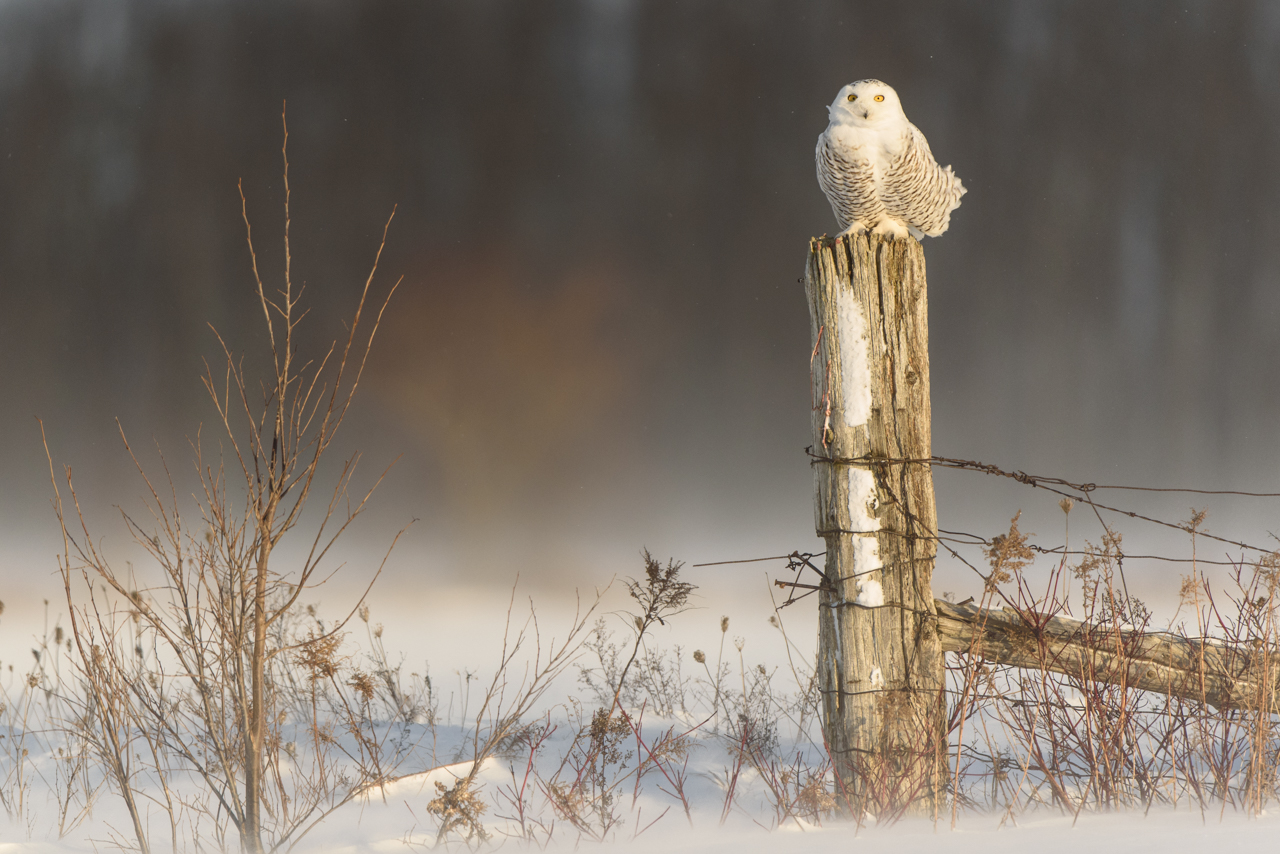 We will spend six days and five nights in Northern Ontario where we will be photographing the Snowy Owls. We will have exclusive use of several tracts of private property so that our group will not be competing with local photographers and birders for these birds. We will have two local guides helping us locate the owls and placing us in the best possible positions to photograph the owls. They have been photographing and guiding people on these trips for several years, and so, we should be secure in our belief that we'll be photographing Snowy Owls. Over the past several years, they have averaged 7 or 8 individual Snowy Owls as well as Barred Owl. In fact, in the last six years they have only been skunked two days. The odds are in our favor, and you should have plenty of opportunities to make some fantastic images.
As a photography workshop, there is a significant teaching component on this trip. I'll ensure that you understand the camera settings and techniques that you'll need to succeed. We'll talk about successful compositions and image processing to get you the photos that you've dreamed of making.
I've tried to make this workshop as comfortable as possible for those of you that are not familiar with winter driving. All you have to do is show up at the Toronto Airport, and you'll catch a pre-paid shuttle. Your hotel, your breakfast, and your loc transportation are all included. If you'd like to arrange for a private room, just let me know, and I will get you a rate for that.
Our group will never be more than eight so that we can get close to the owls without causing too much disturbance. A small group also means you will have as much or as little personal attention as you prefer.
Included/Not Included
Included
Shared accommodation for five nights and six days, Dinner on day one, Breakfast at hotels each morning for attendees, Airport drop off via airporter or van.
Not Included
Dinners(except day one where it is included), lunches, Items of personal nature, international airfare, travelers insurance, anything not listed as included.
Equipment and Gear
It can be quite cold, snowy and windy, so bring the appropriate number of layers to keep you happy and warm. The average temperature in February is 28F (-3c). You'll need a hat, everyone forgets to bring a hat, please bring a warm hat!
Snowy Owls hunt on the wing and so a long lens to track them as they fly silently in search of vols is perfect. When they wheel in towards our cameras with outspread wings, a shorter lens will be your best bet. You'll have an advantage in this workshop if you carry two camera bodies. Leave your long telephoto (such as a 500mm) lens mounted on a sturdy tripod (gimbal mount recommended). Then have a short telephoto (such as a 70-200mm) lens on the second body to be used handheld. If your kit includes just one camera body, an 80-400mm (Nikon) lens or 100-400mm (Canon) lens is advised.
Your batteries will discharge at nearly twice the normal rate at these temperatures, so bring plenty of batteries. My experience is that the camera never gets an accurate battery reading in winter. Be sure to top off ALL of your batteries EVERY night.
You will take more images than you might expect so be sure you're loaded up with memory cards.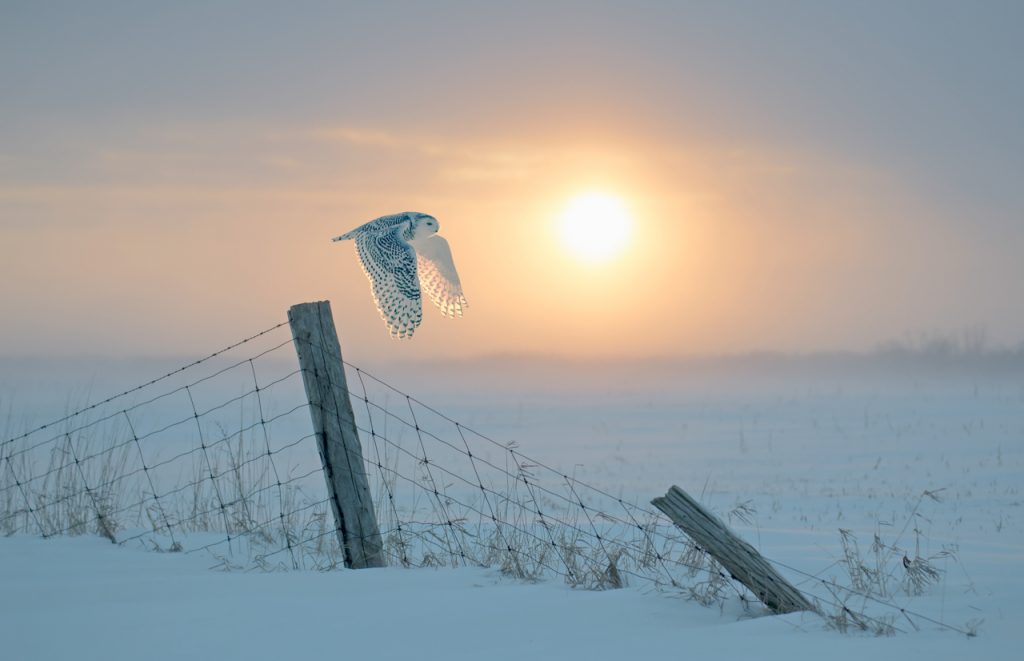 Would you like More Raptors?
If you like photographing eagles, hawks, and owls in flight, then you'll love this optional extension!
Ready to Join me Photographing Snowy Owls?
I actually love this workshop, the images are amazing and just watching the owls flying and hunting is simply awesome. You're gonna love it!
The outcome of joining this workshop is simple to predict, join this workshop take pictures of the owls and without a doubt, You Will Be Amazed!