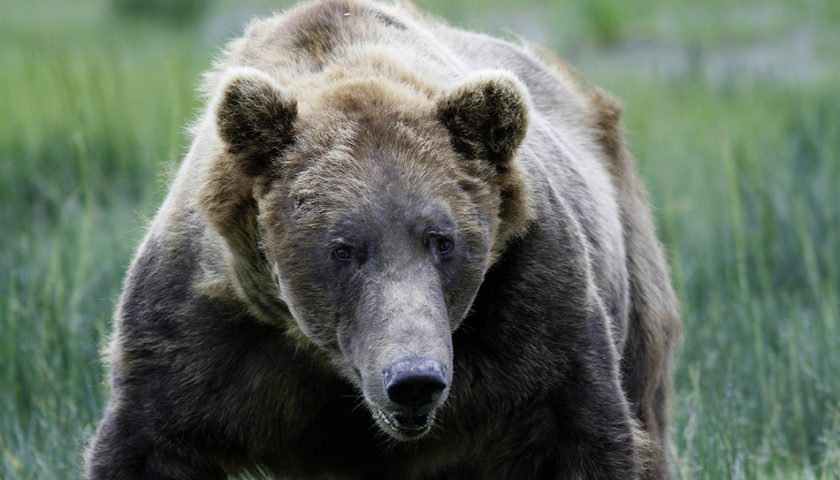 Thursday, August 24 (D)
Meet the group in Anchorage, Alaska. Group welcome dinner. Overnight accommodations at Crowne Plaza Anchorage-Midtown.
This stylish hotel offers complimentary Internet, airport shuttle, pool, hot tub, and business and fitness centers. Onsite lounge and restaurant. Guests will stay on the executive floor with complimentary breakfast, appetizers, evening drinks, and 24-hour access to the concierge lounge and private business center.
Extra Accommodations
If you need pre/post accommodations during the trip, we would be happy to help book these for you. Please inquire for rates available.
Friday, August 25 (B, L, D)
Mid-morning departure to lodge by charter plane. The flight is one hour with a beach landing during low tide or on lake by float plane. We'll be greeted by the lodge staff in ATV's with trailers, a.k.a. the chariots of the north. After we get settled at the lodge and have lunch, we'll venture out for our first photo opportunities with the bears. The full-service lodge is located in the wilderness on private land next to a pristine stream with mountain backdrops. Having a small group makes it easy to search out the best locations of bears chasing salmon for optimum photographs.
Accommodations vary depending on whether you are in the main lodge or in cabins. All rooms will have either one queen bed or two twin beds with private bath or a bath shared between rooms.
The lodge's menu may feature local seafood including salmon, halibut, clams and mussels, as well as fresh greens and herbs from their garden. It is not uncommon for a bear to appear in the meadow in front of the lodge during dinner time, creating the ultimate Alaska dining experience. Three meals a day are cooked by the resident chef and homemade breads and desserts are created by the resident baker.
There is a lounge with a guest computer that allows access to the Internet for personal use. Cell service is available depending on provider. A wood fireplace is located in the lounge to enjoy during rainy days if desired. If conditions are right, we may sit around a bon fire one evening or have the opportunity to see northern lights if the skies are clear. Kayaks are available for guests.

Bear viewing cannot be guaranteed, however, the lodge has had a safe and successful bear viewing program for over 18 years.  Our group may have an opportunity to go by boat to photograph puffins and a resident otter in the nearby area.
Saturday, August 26 – Wednesday, August 30 (B, L, D)
Five full days of bear viewing! Each day after a hearty breakfast, we travel by foot hiking together or hop on an ATV with a trailer to locate the bears that are often near the lodge. These unstressed bears usually appear to be somewhat uninterested and rarely pay attention to our presence. The landscape is vast and wild, providing beautiful backdrops for images. We may also be fortunate enough to photograph puffins, kittiwakes, bald eagles, or fox.
Photographing the bears usually revolves around tides, light and weather conditions. August is the perfect time of year to photograph the big male bears chasing salmon through the rivers. We will regularly see moms with cubs, however, they keep their distance from the individual males. Nothing will prepare you for the feeling you receive when you encounter these magnificent bears just yards away…
We call Alaskan brown bears "fat and happy bears." They feast on salmon and clams and do not struggle like other bears who need to forage for berries, roots, and tubers. They learn to live in close proximity of each other and usually do not see people as a threat or a meal.
Fishing between photo excursions is possible. Each guest can have their salmon cleaned and packaged to take home with them.
Dan will be there for anyone who has questions about camera settings, digital, or anything photography. We'll return to the lodge for lunch and have some time to download cards or take a rest. We'll return to the field to photograph in the late afternoon. A great dinner will be awaiting when we return, perhaps some fresh salmon or halibut. We finish the days with a good night's sleep.
Thursday, August 31 (B)
Today we'll return to Anchorage by charter plane, departing around 10:00am. We'll have a group day room available in Anchorage. Many flights leave hourly from Anchorage, including late evening flights to the lower 48. We suggest a late day departure in case of any bad weather delays during the charter flight.
Helpful Information for 2017 Alaska Brown Bear Photography Tour II
Guests should be able to walk short distances on uneven ground and possibly wade through low waters with their camera packs. When we encounter the bears, we'll walk together slowly as a group. The bears are accustomed to human encounters. Our experienced guides often know the bears individually from their yearly return to the same areas to feed on clams, sedges, or salmon. Caution and patience is always needed to photograph bears in the wild. Please note we are photographing in a Park, Park guidelines or regulations can change at any time. Fishing between photo excursions is possible. Each guest can have their salmon cleaned and packaged to take home with them or cooked up for group dinners.
Boots are supplied by the lodge, however, you can bring your own if you'd prefer. If you have any food or allergy issues the chef and dining staff are happy to accommodate your needs.
We will have most of the lodge booked with our guests, however, there may be other guests (usually fisherman) staying with us.
A package including an itinerary will be sent out to each guest closer to trip departure time.
Natural Exposures is working with an authorized concessionaire within the Park regulations.
CAMERA GEAR
Daniel will phone each guest personally prior to trip time to discuss camera gear and make suggestions for what to bring. 

FISHING LICENSES/EQUIPMENT
Licenses can be purchased at the lodge. Aside from incredible bear viewing, this area has world-class salmon fishing. Late July through August and early September provide good opportunities for silver salmon, dolly varden char, pink and chum salmon, and also sometimes offshore halibut. The lodge has a fishing guide to take guests out and has a supply of spin or fly gear available for rent. Two limit per day for salmon and halibut.
A package including an itinerary will be sent out to each guest closer to trip departure time.