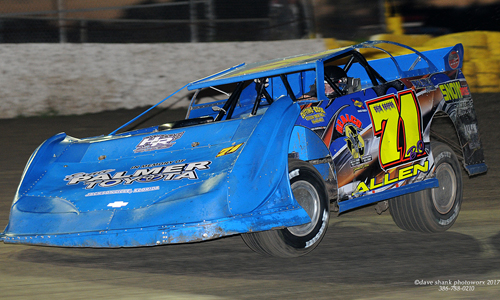 Advanced Medical Labs Late Models – Bo Allen
| | | | |
| --- | --- | --- | --- |
| Starts – 6 | Wins – 0 | Top Fives – 4 | Top Tens – 5 |
Bo Allen as been a regular with the former United Dirt Late Model Series over the past few years, but after the seires didnt continue he stayed to a more local racing schedule running races in Georgia and Florida.
This past racing season found Allen entering all the races at Volusia Speedway Park. Even though he did not intend on running for a championship, it just turned out to fall into his favor as the seven race schedule for the top tier class played into his 2017 racing schedule.
Even though Allen didn't win any races at VSP in 2017, he came close on three separate tries finishing runner up to Donnie Chappell and Joe Jump on two different occasions. The championship battle went down to the final race with two time Champion Travis Staats applying the pressure, but just couldn't catch Allen in his #71 Snow Brother Race Machine.
Allen was also crowned the Golden Isles Track Champion in 2017 as well making him a champion in both Georgia and Florida in the same calendar year!
He is sponsored by Relco Recycling, Snow Brothers Race Cars, Palmer Toyota, and H&R Horsepower.
Florida Late Models Late Models – Adam Bennett
| | | | |
| --- | --- | --- | --- |
| Starts – 9 | Wins – 1 | Top Fives – 6 | Top Tens – 9 |
Adam Bennett attended every Florida Late Model event in 2017 at Volusia Speedway park in 2017 and it payed off as he won his first ever track championship beating out young gun Trevor Taylor and Erik McElroy who also attended all the events in 2017.
Bennett had his breakout win in April as he bested a field of 20+ cars on the night taking home his first career late model win beating out Mikey Kopka, Trevor Taylor, and Sonny Thompson. Bennett also toured the Florida Late Model Series for much of 2017 gaining valuable racing experience on his way to his VSP track Championship.
Bennett's #40 Mastersbilt Race Car is sponsored by Bennets Ace Hardware and Tru-Value Stores, Dixie Chopper, and Penske Racing Shocks.
Daytona Sportswear Modifieds – Garret Stewart
| | | | |
| --- | --- | --- | --- |
| Starts – 8 | Wins – 1 | Top Fives – 7 | Top Tens – 7 |
Garrett Stewart is becoming more known as the modified ace around Volusia Speedway Park on the local level. 2017 brought an unprecedented back to back to back track championships for the driver out of Leesburg, FL.
Garrett started off 2017 running the DIRTcar Nationals like he always does gaining the seat time needed for his long 2017 season which would include more traveling after picking up sponsor Burkins Chevrolet which is owned by fellow racer Larry Burkins.
Burkins, who won the 2014 track championship, gave Stewart all he could ask for as the two seemed to always be racing side by side for the win and the championship. In the end it was Stewart's runner up finish in August that helped him claim his third track championship after Burkins experienced technical difficulties.
Stewart's Elite Chassis #67 was sponsored by Burkins Chevrolet, Bilstein Shocks, B4 Signs and Graphics, Heartbeat racing engines, and Salt Death Fishing.
Mercedes Benz Vans Born to Run Hobby Stocks- Jonathan Croson
| | | | |
| --- | --- | --- | --- |
| Starts – 17 | Wins – 1 | Top Fives – 10 | Top Tens – 15 |
Coming into the 2017 season Jonathan Croson was making the jump from Thunderstocks to Hobby Stocks and just wanted to get some valuable seat time. That seat time ended up turning into his first career win on opening night (For Points) and his first career track championship. Croson had nearly a 200 point lead at one point in the season as he only finished outside the top ten two nights, one of which he broke a transmission ending his night.
What makes the 2017 championship even more astonishing is the car he was driving. Built by Eliminator Race Cars, his #94 was actually an old car with many racing season on it which was formally driven by Charles "Bubba" Christian in years past.
Croson still plans on racing in 2018 as he will be piloting a new Eliminator Race Car built over the off season.
His #94 was sponsored by Affordable Well Drilling, Best Welding, Fast Tech Race Engines, Eliminator Race Cars, and David Terry Lettering.
Revolution Racing presented by BOZARD Ford V8 Thunderstocks – Charlie Staats
| | | | |
| --- | --- | --- | --- |
| Starts – 16 | Wins – 0 | Top Fives – 7 | Top Tens – 14 |
Much like Croson, it was a surprise in the championship for the V8 Thunderstocks as it was veteran Charlie Staats showing he could still race with the best drivers in the south winning his first career Thunderstock Title.
Staats, who is no stranger to racing, didn't plan on running the entire season until a streak of top five finishes early on in the year. The team decided to race all the events in what is arguably the toughest class in the sunshine state. the efforts paid off dividends which resulted in the title.
Staats' #9AR was sponsored by Action Automotive, Action Graphix, AR Machine, Astor Bait and Tackle, and Semper- Fi Heating and Air.
Allen Tractor Mini Stocks – Brad Fender
| | | | |
| --- | --- | --- | --- |
| Starts – 12 | Wins – 5 | Top Fives – 11 | Top Tens – 12 |
Brad Fender had a tough 2016 in which he should have won the title, but bad luck just seamed to plague the Deleon Springs native all year. The team regrouped in 2017 with a championship in mind and they did just that.
Fender would start off the year on fire winning the first three points races in a row, then going on a top five streak that would last deep into the summer making his #69 mini stock one of the most consistent cars of any class during the 2017 season.
In the end Fender would finish with five wins and would edge out fellow mini stock driver Michael Ridgeway Jr. for the championship by just 16 points.
Fenders Rocket Chassis machine was sponsored by Going Butts BBQ and Fenders Drywall.
Gary Yeomans Performance Parts Gladiators – Robert Young
| | | | |
| --- | --- | --- | --- |
| Starts – 11 | Wins – 5 | Top Fives – 10 | Top Tens – 11 |
Robert Young, like Charlie Staats, is no stranger to racing. He has over 30 years racing anywhere from asphalt street stocks to dirt car Thunderstocks and Hobby Stocks. at the end of 2016 Young started to run a few gladiator races and made the announcement before the 2017 season he would run one full year in the class.
The decision played out well for the Deland, FL native as he would win the first two points races of the season and go on a consistency streak much like Brand Fenders and Jonathan Crosons. In the end Young would take home five points wins, and never finish outside the top ten the entire year. The battle did come down to the end however as Dustin Childers was on his bumper most of the year winning a race himself, but coming just short of the title.
Young also sponsored the Gladiator Challenge Series in 2017 which was won by his son Rusty Young racing in his first season with the gladiators.
Youngs car was sponsored by his own company, Youngs Enterprises.